News
Who to watch in the World Cup final? Argentina's best players: Messi, Álvarez, Enzo Fernández…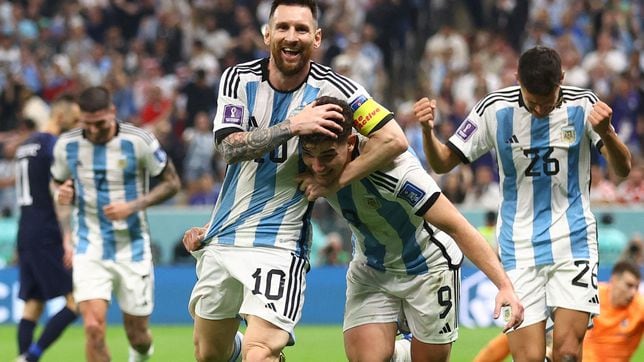 I'll be honest, one long paragraph on Lionel Messi would be enough for both of us to chow down on and keep us fed for a week: how he plays with the ball stuck with velcro to his boot, how poor Gvardiol innards now look more mangled than a mangrove forest, how he always hits the ball so sweetly like a satisfying pinball arm flick that us mortals can't even do on the machine, let alone with our legs. Oh, and how he's been doing all of this for pretty much 15 years. We'd have an exquisite 15-course meal, a fine-dining experience to fill ourselves, except each plate would be a huge Thanksgiving dinner. So much food, so much Messi.
Full screen
Argentina's forward #10 Lionel MessiFRANCK FIFEAFP
But instead of doing that, let's take a look at the players across the team who aren't Lionel Messi who might be able to give Argentina the advantage over France in the World Cup final at the Lusail Stadium on Sunday 18 December.
Julián Álvarez
Eyes were rolled when Manchester City paid a reported €21 million to River Plate for the striker, but those in the know nodded in silent approval at the move. His impact at the World Cup has been extraordinary, and Álvarez has edged out pre-tournament mainstay Lautaro Martínez from the attacking line. With 4 goals so far and one assist, he is joint-second in the top-scorer charts at the World Cup alongside Olivier Giroud (Messi and Mbappé are joint-top with 5 goals each).
His relationship with Messi is what has allowed him to flourish: the two know instinctively where to be in what moment in relation to each other, the third goal against Croatia would not have been etched into history had Álvarez not been in the right place at the right time to get on the end of the assist from Messi.
Against France, Álvarez will probably have his toughest challenge to date, with Varane and one of Upamecano or Konaté – the latter who put on an incredible defensive performance against Morocco – forming a formidable wall in front of Lloris. But, as we have seen so far, once Julián and Lionel get into their stride, they are about as easy to catch as two gusts of wind.
Full screen
Croatia's Luka Modric in action with Argentina's Enzo Fernandez REUTERS/Hannah MckayHANNAH MCKAYREUTERS
Enzo Fernández
Enzo was introduced into the starting XI in Argentina's first game against Saudi Arabia, as a 59th minute substitute for Leandro Paredes. Nobody realised that he would go on to become one of La Albiceleste's most important players alongside De Paul, taking the temporary place of Paredes.
The Benfica midfielder has turned into one of the players of the tournament, providing crucial defensive cover while supporting in attack. His goal against Mexico in the group stage was followed up by an assist against Poland.
Since then, he has started every game and Argentina have won all the way to the final, with the 21-year-old making his way into team of the tournament lists across the world.
Emiliano Martínez
'Dibu', as he is affectionately known, has become quite the character in the Argentina side that has made it this far. His performances at the World Cup have given Argentina the edge over lots of difficult rivals and none more so than in the quarter-finals against the Netherlands, where Martínez saved the first two penalties in the shootout. This gave Argentina the confidence they needed and when Lautaro Martínez scored the winner, the players surrounded the Aston Villa goalkeeper in celebration.
As could be copied and pasted across this whole piece, France will give Dibu his toughest challenge as he looks to keep out deadly Giroud-Mbappé duo, as well as the sneaky Griezmann and whatever version of Dembélé turns up on the day.
Full screen
The Netherlands' Virgil van Dijk has his penalty saved by Argentina's Emiliano Martinez. REUTERS/Kai PfaffenbachKAI PFAFFENBACHREUTERS
Lionel Messi
I know I said I wouldn't, but come on, it was always going to happen. Just a little Messi paragraph, I promise. Yes, if anyone is going to give Argentina their third star, it is going to come from the toes of the Grand Wizard, the little boy from Rosario who has always made us smile and love football just that bit more, whether it be on the TV or in a stadium in Barcelona, Paris or elsewhere. Many are seeing this match versus France is as Messi's last World Cup game, including the man himself, so if the trophy is to go to South America, then La Pulga is the guy to do it.