News
How did Benzema react to Deschamps' interview on France World Cup injury?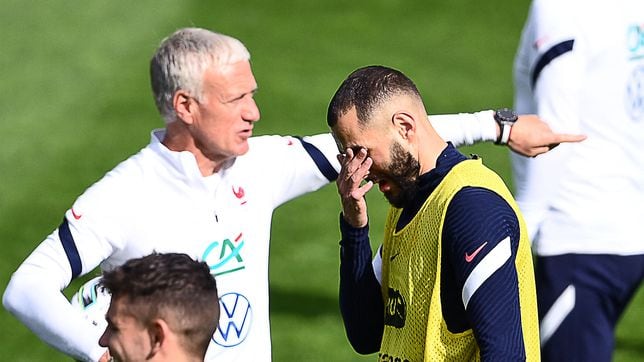 Karim Benzema lashed out at Didier Deschamps after the France coach said the decision to expel the striker from France's World Cup squad was made with the 35-year-old's approval.
"What audacity," the Real Madrid star wrote on Instagram, accompanying his post with a "clown" emoji.
The player's camp says Benzema could have played in the World Cup
A thigh injury saw Benzema leave the French camp three days before the tournament opened for the team in November, but the player's agent, Karim Jaziri, claimed after the World Cup that his client could have been fit for the start of the knockout stages in Qatar. "Why are you asking him to leave so quickly?" Al-Jaziri said in a tweet he posted on Boxing Day.
On 19 December, the day after France's World Cup final loss to Argentina, Benzema announced his retirement from international football.
I put that out there but before that I consulted 3 specialists who confirmed the diagnosis Benzema would have been fit from 1/8 to at least off the bench! Why did you ask him to leave so quickly? pic.twitter.com/wtOHhDeDVW
– Karim Jaziri (@KDjaziri) December 26, 2022
The striker knew the World Cup was over, Deschamps claims
Asked in an interview with Le Parisien newspaper on Friday whether the final decision on Benzema's fitness was taken in haste, Deschamps said: "It is an insult for us to say that. In every case there is one truth and Karim knows that.
He joined us on November 14, after a period of inactivity at his club. He followed an individual training programme. His return to group training has been postponed. As has been the case with Rafael. [Varane]I wasn't just focused on getting him back for the opening game against Australia.
When Karim was injured, our doctor took him to the Aspetar clinic for a scan. Karim sent the results to someone in Madrid, and he gave his opinion, too. When he got back to the hotel, it was already after midnight. I joined Karim in his room with our doctor, who had come to report back about the scan.
"Karim was upset, because this World Cup meant so much to him. He told me: 'It's dead.' Our doctor's diagnosis matched the one he got from Madrid. In the best-case scenario, he won't be back in training until December 10th." [the day France faced England in the quarter-finals].
When I left him, I told him: Karim, there is no need to rush. You sort your return [from Qatar] with the team manager. When I woke up, I discovered that he had left. It's his decision, and I understand and respect it."
Screen zoom
Benzema renews the decision to retire
Deschamps also revealed to Le Parisien newspaper that he spoke to Benzema after extending his contract as France coach in January, and was told that the player remained determined not to represent his country anymore.
"We had a long conversation and I asked him if he was ready to come back," Deschamps said. "He reassured me of his decision to devote some time to his international career. Don't ask me for his reasons. It is up to him whether he makes them known or not."